If Pepto-Bismol was a soda it would look like this. Dan "The Fan" W gave us this very pink can of Postobon, which is apparently an apple flavored soda. Looking at the label shows that Postobon is a myriad of chemicals. With that said, I do like apple flavored soda and I am one of the few people that likes Pepto-Bismol… so color me ready to drink. While I'm not sure what color "ready" is, I'm pretty sure in this case it's pink.
This has no smell. Wait, wait, I can faintly smell apples and now the odor is getting stronger. It was like the apple smell was Nessie keeping her head underwater until she thought it was safe to come up, avoiding the stares of tourists. Now as she emerges the apple smell gets stronger and stronger. That would be so very awesome if the Loch Ness Monster smelled of apples. Since I've now somehow tied another thing I like into this beverage I'd say it's time to drink.
That, my friends, is no apple soda. This is some kind of cotton candy/apple hybrid. Have you ever had apple cotton candy? Of course you haven't. The only time you get the flavor of cotton candy and apples together is after a long day at the state fair… after one too many rides on the Zipper. I did it again. I incorporated my favorite carnival ride into this review. I don't really want to drink this anymore, it's so sickly sweet. It's not so gross that I think no one will like it, I'm sure there will be people out there who disagree with me whole heartedly. What I'm saying is that I'm done with Postobon and for some reason I have Bonnie Pink's song Cotton Candy stuck in my head.
Verdict – Buyer Beware!
~A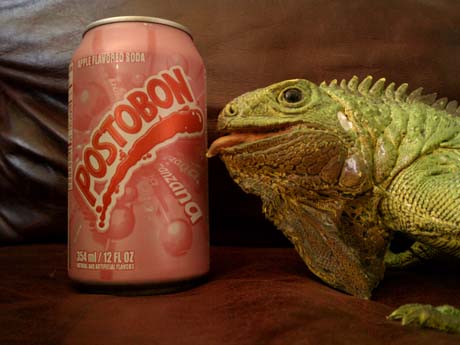 Twist used to operate the Gravitron